Julian Irlinger
Gift
Wende Museum, Los Angeles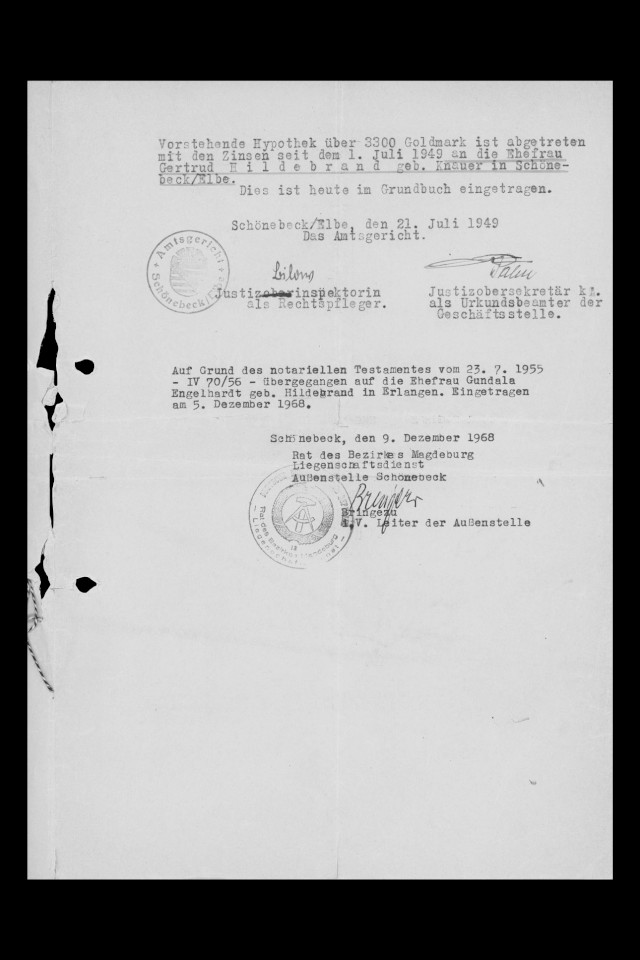 Opening: 13 November 2022, 11 AM–5 PM
Duration: 13 November 2022 – 12 March 2023
Opening alongside: Ruth Wolf-Rehfeldt and David Horvitz: For Ruth, The Sky in Los Angeles; (De)constructing Ideology: The Cultural Revolution and Beyond

In Gift Julian Irlinger explores the writing of history through an institutional process by donating various documentary materials to the Wende Museum in Los Angeles, one of the largest historical archives on GDR history. Irlinger negotiates the institutional process that controls the relevance of artifacts before they enter the archive through an artistic donation of documentary materials. The documents and photographs record the consecutive forms of ownership of a house in Schönebeck an der Elbe. The property was confiscated in 1983 from his grandmother by the German Democratic Republic, transferred back to her in 1991 by the Federal German Republic, and subsequently sold in 1992.
These documents, the act of donation, and the story they tell not only describe various forms of ownership, authorship and appropriation, they also examine how art can operate as an infrastructure to address such processes. While the Wende Museum would normally not have accepted these documents as a donation in the first place, Julian Irlinger foregrounded in conversations with the museum the act of donation itself as the work of art.

Gift evolved through several different manifestations: from an exhibition at Galerie Wedding in Berlin (2020) to a volume published by Spector Books (2021), Billboards with Ideal Art Space in Leipzig and Schönebeck an der Elbe (2022) and finally becoming situated in a specific context: the Wende Museum (2022).