Christiane Blattmann
Material Art Fair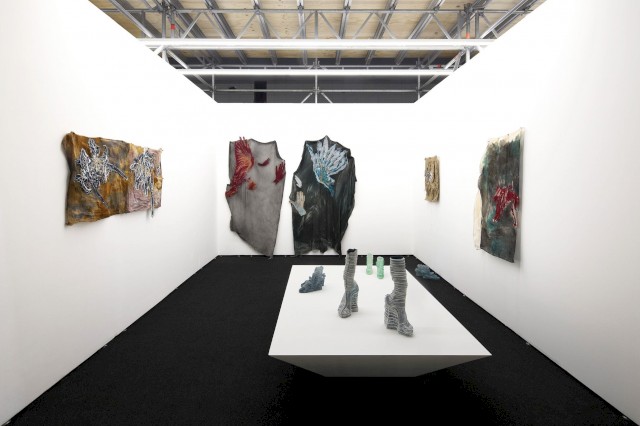 For the occasion of this years edition of Material Art Fair, Damien & The Love Guru presents an overview of Christiane Blattmann's shoe sculptures. These ongoing series, which the artist started in 2015, combine fictional and actual architecture and garment. In an elegant twist buildings are shrunk to model-like size and paired in two to evoke the image of shoes. No longer model and not yet used object, these sculptures contemplate on the viewer's agency towards a built surrounding.The twin-objects are placed in the space as if in pace and thus imagine an absent body wearing them.

According to the particular scale of the sculptures the physics of this imagined wearer varies from a giant to a child. Who does architecture belong to? Who are houses built for? What is our relationship to spaces we pass through daily? These questions are raised by the series in a playful and witty manner. On view are pieces from the series ranging from 2016 until 2020. The new artworks made for Material Art Fair focus on her research received from a travel grant that brought her to Mexico City in 2013.

Blattmann intervenes in the architecture of the booth, elevating a part of the floor onto a stage as a platform to display the shoe sculptures.The vertical space of the booth will be activated by a selection of works which counterpoints the sculptures: cast in silicone, like many of the shoes as well, but combined with textile. The flat work represents abstract fragments taken from nature such as leaves and feathers. The bas-reliefs of the casts evoke a fleshy and tangible moment and bring the physicality of nature in contrast to the architectural references. At the same time they both emphasize their sensual qualities.